---
HOPE Is Seeking Funding
HOPE For Bereaved is seeking funding to cover the cost of printing and distributing our Grief Resource Kit for schools.  HOPE For Bereaved has put together a grief resource kit to assist school administrators, counselors, teachers and students in helping students who are grieving the death of a family member or friend. Recently HOPE distributed copies of the kit to area school counselor and social workers to review and give us feed back and suggestions. The kit has been completely updated and is ready for printing. Once printed HOPE plans to distribute the kit to area schools. If you are interested in being a sponsor for this program please call HOPE at 475-9675.  To learn more about this kit click here.

HOPE for Bereaved understands that when someone close to you dies, it changes your life. Those suffering from grief need the support of others who share that experience. HOPE for Bereaved offers support groups and counseling among many other resources.
HOPE For Bereaved is a proud member of the National Alliance for Grieving Children.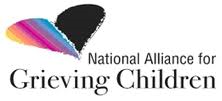 Shop & Raise Money for HOPE
Raise Money for HOPE as you shop.  When you shop at AmazonSmile.com 55 of the purchase will go to HOPE For Bereaved.  Click on logo below to begin shoppin

---