---
Coping With The Holidays
Are you or someone you know grieving the death of a loved one or friend this Holiday Season.   You do not need to do this alone.  HOPE is holding our annual workshop titled "Coping With The Holiday's" on Thursday, December 3rd from 6:30 to 8:30 at HOPE For Bereaved, 4500 Onondaga Blvd., Syracuse, NY 13219.  We will offer suggestions to help you or for you to help a love one get through what is suppose to be a joyous time as you grieve.  There will be a panel of 3 speakers who will share how they handled their first holiday season after the death of their loved one.   We will have a question and answer session, a candle lighting ceremony, and will serve light refreshments.
Click here to watch an interview conducted by Dan Cummings of WSYR News Channel 9 with Therese Schoeneck, HOPE's Executive Director and                Kim Bermel, Garden Of HOPE Coordinator.
http://www.localsyr.com/news/newsmakers/newsmakers-hope-for-bereaved
HOPE for Bereaved understands that when someone close to you dies, it changes your life. Those suffering from grief need the support of others who share that experience. HOPE for Bereaved offers support groups and counseling among many other resources.
HOPE For Bereaved is a proud member of the National Alliance for Grieving Children.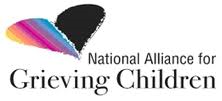 Shop & Raise Money for HOPE
Raise Money for HOPE as you shop.  When you shop at AmazonSmile.com 55 of the purchase will go to HOPE For Bereaved.  Click on logo below to begin shoppin

---